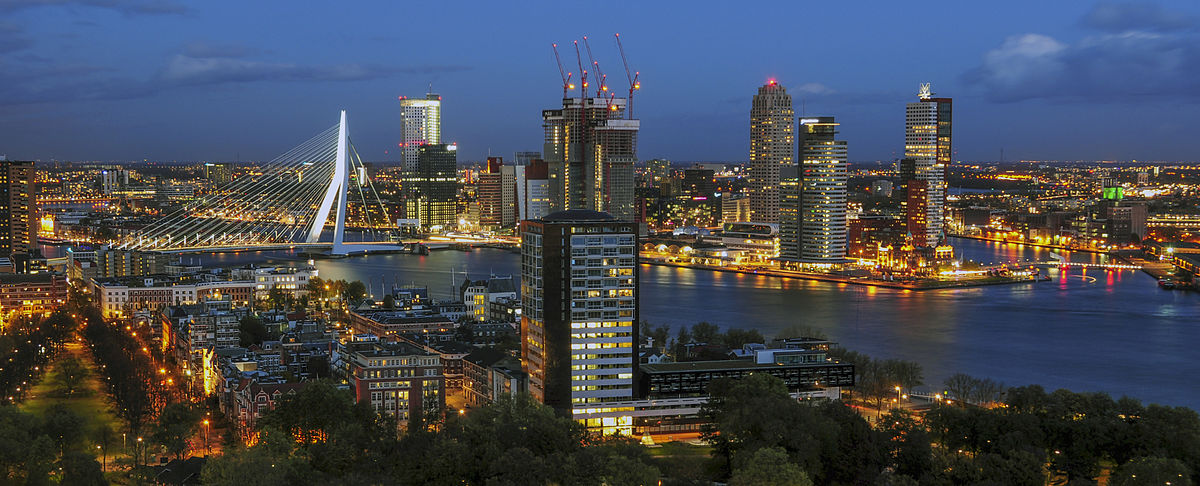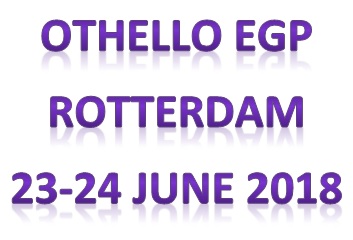 You are cordially invited to play in the Rotterdam Othello EGP 2018. This EGP is part of the 2018 EGP series consisting of 7 tournaments across Europe. As each EGP tournament, there will be 11 rounds of 25 minutes per person according to Swiss pairing with a best-of-3 final played between the top-2 ranked players and a 1-game play-off between the 3rd and 4th ranked players. Tournament will be played according to EGP rules. The tournament is also part of the Dutch Grand Prix 2018.
Apart from playing the wonderful game of Othello, there will be plenty of opportunities to meet old and new friends, explore the city, have a drink and enjoy a 'smakelijk' dinner.

Together we will make it a great event!


Venue

The tournament will be played in the location of Bridgesociëteit de Lombard. The location is just at the edge of the city centre of Rotterdam. The address is:
Bridgesociëteit de Lombard
Lombardkade 28
3031 AH Rotterdam

Google Maps

The city

(Source: Wikipedia) Rotterdam is a city in the Netherlands, in South Holland within the Rhine-Meuse-Scheldt river delta at the North Sea. Its history goes back to 1270, when a dam was constructed in the Rotte river, after which people settled around it for safety. In 1340, Rotterdam was granted city rights by the Count of Holland.
A major logistic and economic centre, Rotterdam is Europe's largest port, and has a population of 633,471 (2017), the second-largest in the Netherlands, just behind Amsterdam.
Rotterdam is known for the Erasmus University, its riverside setting, lively cultural life, and maritime heritage. The near-complete destruction of the city centre in the World War II Rotterdam Blitz has resulted in a varied architectural landscape, including sky-scrapers (an uncommon sight in other Dutch cities) designed by renowned architects such as Rem Koolhaas, Piet Blom, and Ben van Berkel.

Information on Rotterdam can be found here.


Public Transport



The venue can be reached using the RET-line 7. By foot from central station will take you about 15 to 20 minutes.
Rotterdam Central Station has direct railway connections to Amsterdam, Schiphol Airport, Brussels and Paris ( Thalys) and bus line to Rotterdam Airport (bus 33).


Car



Parking in the city can be, but does not need to be expensive. You can park your car at the "Kuip" (stadium of Feyenoord) for free and continue your journey by public transport (RET line 23). Another option for free parking is at "Noordereiland". From there you can take line 32 to the venue or have a 20 to 30 minutes walk. At Switchpark Oostplein, you can park for 5 euros/day. See Prettig Parkeren for the best parking options.




Schedule



Saturday, 10:00h: Registration of players
Saturday, 10:30h: Round 1
Saturday, 13:15h: Lunch
Saturday, 14:15h: Round 4

Sunday, 09:30h: Round 8
Sunday, 13:15h: Lunch


Sunday, 14:15h: Finals




Sunday, 17:00h: Award ceremony




Accommodation





There are several affordable accommodations to sleep during your stay at Rotterdam, for example:


https://www.stayokay.com/nl/hostel/rotterdam
https://cityhub.com/rotterdam/
https://easyhotelbenelux.com/rotterdam-city-centre/
http://boat-hotel.com/index.php/nl/


Registration fee



Two lunches (Saturday and Sunday) as well as a consumption card for some coffee, tea, soda, beer etc. are included in the entry fee.
20 euros for children up to 15 years


40 euros for all other players

.


Registered players



Nicky van den Biggelaar (NL)
Matthias Berg (D)
Imre Leader (GB)
Marc Tastet (F)
Takuji Kashiwabara (F)
Tom Schotte (B)
Albert Kortendijk (NL)
Roel Hobo (NL)
Patrick Aubroeck (NL)
Erwin van den Berg (NL)
Jan de Graaf (NL)
Marc Bertrandias (F)
Benkt Steentoft (SE)
Linda Praseptyo (NL)
Martin Fransen (NL)
Marcel Sneek (NL)
Anja van Gimst (NL)
Frauke Van de Moortel (B)
Ahmed Hassan (ET)
Mireille Blijleven (NL)
Stefan Murawski (D)
Ruud van Gimst (NL)
Linda Klatten (NL)
Rémi Tastet (F)
Sophie Tastet (F)
Wendy de Graaf (NL)
Jasmijn de Graaf (NL)

Send your registration, remarks and/or questions to info@othello.nl.